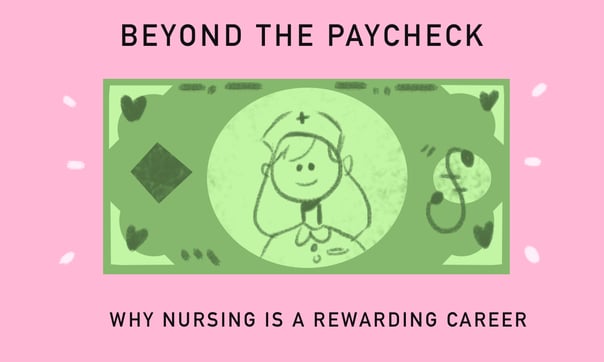 Having a career that you can depend on for a stable financial future is very important. But it is also even more important to have a career that is personally rewarding. Choosing to become a nurse can provide you with the best of both worlds with a job that provides personal fulfillment, job security and flexibility.
---
Emotional Rewards
As a nurse, you are given the privilege and delicate responsibility of caring for the injured, sick and dying. This gives you the opportunity to make a difference in the lives of others by giving care to others in their time of need, just as you would want someone to do for you if you were in their place. The world needs more people who are willing to do that.
Part of your job at times may be to take on the role of confidant for a scared patient who is afraid of burdening their loved ones. Sometimes being a good listener is just enough to comfort a patient. Other times you may be comforting a patient's loved ones when they pass away. When you are a nurse, you are involved in some of life's most meaningful moments. This may even include assisting with bringing a new baby into the world and handing the child to its mother for the first time.
Job Security
Nurses are in need no matter where you may choose to live in the future. According to the Bureau of Labor Statistics, the job outlook for LVN's is expected to grow by 16 percent through 2024, which is faster than average for other jobs.
Flexibility
A perk of being a nurse is that you have flexibility. Nurses are needed in hospitals, nursing facilities, and other places where healthcare professionals are needed. You also have the ability to choose what you want to specialize in, whether it be taking care of the elderly or working to educate your community. You also have options for shifts that help adjust to your family or childcare needs.
---
You Might Like...
Transferring to a Nursing School
IN THE LAB: Proper Ear-drop Instiallation
n A Day in the Life: What Vocational Nursing is All About
Going Back to School as a Single Parent
---

Interested in our LVN program?
Check out our newly updated LVN guide for more information!
Interested in our CNA program?
Check out our CNA curriculum guide for more information!