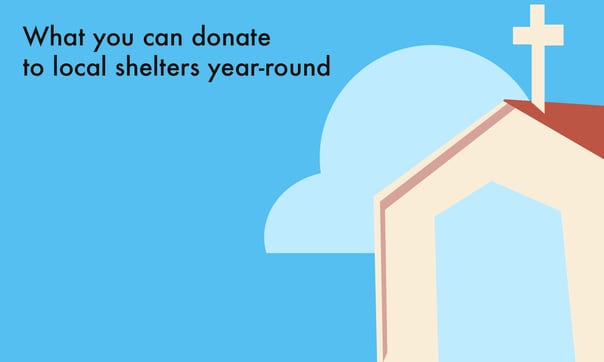 During the holiday season, there's usually more need at local shelters and food banks for items for the homeless and those who are less fortunate. Many people think to donate non-perishable food items, coats and clothes, but there are some items that most don't realize which both types of organizations are in need of year-round.
---
Most-Needed Hygiene Items
The homeless often go without the hygiene necessities that most of us take for granted.
Toilet paper is a necessity for all, and it's one of the quickest-moving items that donation centers run out of. It's also not extremely expensive, so pick up a few extra rolls on your next trip to the market to donate.


You may take for granted having essentials such as soap, deodorant, shampoo or toothpaste, but for the homeless, these are luxuries they often have to go without. When donating these items, try to stick to small sizes that are easy to carry around.


Feminine hygiene products, such as pads and tampons are a necessity for women in need because they often do not have access to these items. Keep this in mind so when you're shopping for yourself and these products are on sale, you can pick up a couple of extra boxes to donate.


Baby clothes are always donated, which is wonderful, but diapers and wipes are always in great demand. Remember to donate any stockpiles of disposable diapers you might have in your closet, or pick up an extra package on your shopping trip. Larger sizes for toddlers are always needed.
Additional Items That Are Needed
Clothing items, including socks and underwear, are always in big demand because these are items that are not accepted used. Pick up an extra package of socks or underwear when on sale to donate to your local shelter.
By mid-year, the school essentials that may have been received at the beginning of the school year may be dwindling for most needy families. Items such as pencils, notebooks and backpacks are often needed for children.