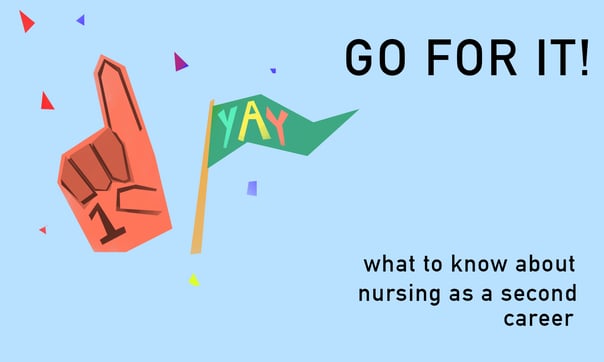 Years ago, it was common to stay in one career until it was time to retire. However, today it's becoming more commonplace to have more than one career during your working years.
If you're looking for a change, one path to consider is a rewarding career in healthcare as a nurse. Before you decide to pursue this career, there are a few things you should know before you get started.
---
1. Is Nursing for You?
Switching careers is not a decision to take lightly. Before deciding to leave your current job, you should investigate whether a nursing career is something you really want to do before you invest your time and money in nursing school. A good way to do this is to volunteer or find a part-time job where you can work as a nursing assistant. Another option is to shadow an experienced nurse so you can get a good idea of what working as a nurse would be like.
An added benefit to taking the time to get a taste of what your career could be like is that you would be working alongside experienced nurses who can offer you advice and insight on becoming a nurse. You may also make connections by networking with the nurses you meet that could help you find a job in the future.
2. Choosing a Nursing School
You will need to decide what level of nursing career you want to pursue to decide what type of nursing school to apply to. One thing to consider is what type of time commitment you're willing to make to be trained as a nurse. If you want to begin working as a nurse or nursing assistant as soon as possible, going to a vocational school is your best bet. You could complete your studies to become a licensed vocational nurse in as little as ten months. After graduation, you would still need to take and pass the NCLEX exam to receive your nursing credentials through the state.
The benefit of entering the nursing field as a licensed vocational nurse is that you can enter the healthcare field faster than you would if you decided to pursue a registered nursing degree first. A registered nurse needs to have an associate's degree at minimum. You may have already completed some college coursework previously, but being out in the work world for some time, you may find that some schools will not accept your previous coursework if you completed it more than ten years ago. This means you may find yourself having to retake prerequisite courses.
Choosing to attend a nursing program at a college could take you at least two years to complete. In addition, the cost of college tuition continues to rise and you may find yourself competing against other students to gain entrance to a college nursing program because of limited availability. Another option is to begin your second career as a licensed vocational nurse and then transition to becoming a registered nurse later on with a program that takes into account your experience as a licensed vocational nurse.
3. Paying for Nursing School
The thought of paying for nursing school can be a deterrent for those who wish to enter the field of nursing. What you may not realize is that depending on your financial circumstances, you may be eligible for financial aid that you do not need to pay back or low-interest federal student loans that you can begin to pay back after your graduate from school.
4. Job Availability
Once you become a nurse, you'll find that you have many different nursing careers to choose from! If you've always wanted to travel, an option to consider is working as a traveling nurse. Not all nurses work in hospitals or nursing homes; you could choose to find work in a school, clinic, private homes or a doctor's office.
Deciding to switch careers and go into nursing is a major decision. Knowing what you're getting yourself into beforehand will help you make a smooth transition.
---
You Might Like...
3 Ways to Find Out if Nursing is Right For You
More Americans Choosing Nursing as Second Careers
A Day in the Life: LVN vs. CNA
5 Pioneering Men in Nursing History
---
It's never too late to start a new career, so what are you waiting for?
Our next LVN class starts in October!
Did you know Angeles Institute now offers a part-time CNA program?

For more information, call us at (562) 531-4100!