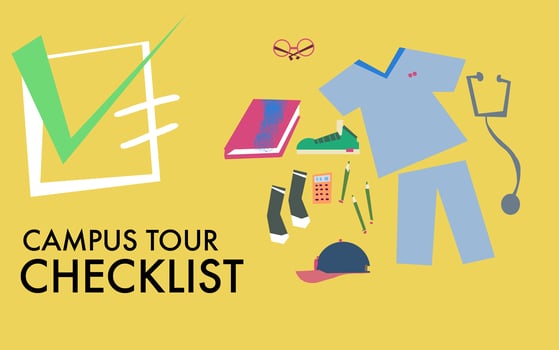 After all the time you have spent online researching career options and various schools, one of the best ways to help you decide which school is best for you is by taking a campus tour. This will allow you to get a feel for the school by seeing first hand who is running the school, the facilities that are offered, and of course, by seeing and speaking with other students. To make the most of your campus tour, it helps to come armed with a checklist of things you should do while on the tour, in addition to important questions that you should ask.
Preparing for Your Visit
Call the admissions office to schedule a tour
Make an appointment to meet with an admissions officer during the tour
Bring a pen and notebook to write down answers to your questions and take notes
What to Do During Your Tour
Visit the career-counseling center
Speak with an instructor
Visit the library, lab and student center
Check out bulletin boards throughout the campus
Write down contact information for people you meet with
Questions to Ask Your Tour Guide
Are there clubs or extracurricular activities available for students?
Where do students hang out around the campus?
Are there places to study around campus?
Questions to Ask Students You May Meet
Do you like attending this school?
What complaints do you have about this school?
Are the programs offered suitable for preparing you for the career you have chosen?
How much time do you spend studying?
Questions to Ask During Your Appointment with the Admissions Officer
Does financial need play a factor in the admissions process?
What percentage of students receive financial aid?
Are there scholarships available to help with tuition, books and supplies?
What is the school's rate of successful program completion and students gaining employment in their chosen field?
Be sure to add other applicable questions you may have. Sticking to your checklist will help you remain focused and get the most out of your campus tour.