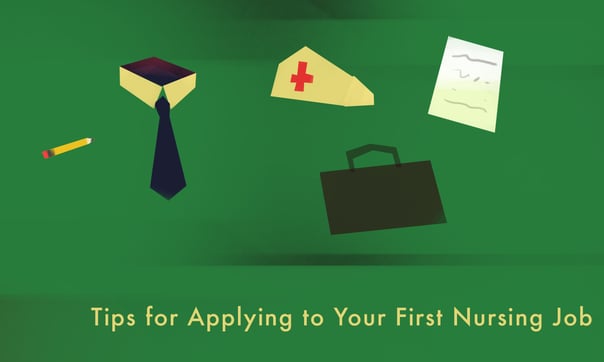 After the excitement of finishing nursing school and passing your NCLEX, you're ready to get out there and find your first nursing job. One of the biggest challenges you'll face as a new nurse is getting your foot in the door at a job you want that will allow you to put your education to good use and continue to grow. While it is an exciting time for you, it can easily become overwhelming because there are so many career options to choose from as you start your job search. The following tips can help you with applying for your first nursing job.
---
Decide Career Path
Think about what type of setting you would like to work in. You are not tied down to working in a hospital setting. If you enjoy taking care of the elderly, you might like to work in a rehabilitation center or for a home health care agency. Have you always wanted to travel? A job as a traveling nurse may be your answer.
Be Realistic
It's good to know what type of working schedule will work best for you. If you know that you can only work while your children are in school, you probably should avoid applying for a night job, especially if childcare is an issue. You should also consider how far away a job is before applying for it. If you depend on public transportation, you want to make sure that the job is easily accessible that way.
Consider Future Goals
While you may not get your dream job for your first job, it helps to pursue a job that will put you closer to that dream position. Apply for jobs that will help you build upon what you have learned in school and gain the experience you will need to pursue your dream.
Prepare Résumé
Even if you plan to apply for jobs online, it helps to have a resume prepared so that you can refer to it as you fill out online applications. Having your resume ready will save time if you need to email it to a prospective employer or bring it to your interview. It's a good idea to keep your resume as short as possible, preferably one page in length.
Make sure you include the following key elements in your resume:
Relevant work experience or previous work history if you have never worked in healthcare
Your nursing credentials
Stay away from fancy typefaces and stick to a plain layout
Relevant keywords in the event that the employer uses software to filter resumes
Your nursing school GPA if requested in lieu of nursing experience
Avoid providing personally identifiable information in your resume, such as your nursing license number or your social security number. Don't forget to create a cover letter because it will give you the opportunity to tell your story about why you would like the job you are applying for. Your cover letter gives you an opportunity to stand out among the other job applicants. You will want to tailor your cover letter for each job you're applying for.
Find Job Openings
You can find open nursing positions on healthcare-specific sites, such as NursingJobs.com, Health eCareers and CyberNurse.com. There are online sites where you can find nursing jobs on generic search platforms, like Indeed.com, LinkedIn or Monster.com. You could also search individual websites of places where you would like to work to see if a position is available. However, a good way to find out about available nursing jobs is by networking with people in the healthcare field that you may have met while you were in nursing school.
Follow Up
You should realize that after submitting your application that you may not hear anything from a potential employer right away for several days, if not longer. It's a good idea to wait at least a week before following up with a polite email asking when you may receive a response back about the jobs. If you don't receive a response by email, it doesn't hurt to make a phone call expressing your interest.
---
You Might Like...
Vocational Nursing Portfolio Checklist
Top 6 Careers with a Nursing Degree
Why Good Communication is Important in Nursing
5 Pioneering Men in Nursing History