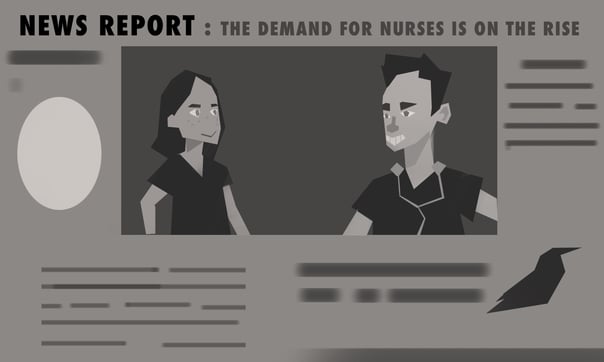 The demand for new nurses continues to grow at a faster rate than many other types of careers. Starting your nursing career as an LVN opens the door to many future career options if you choose to advance your career through additional schooling later on. One specialty to aspire to be is a med/surg nurse.
---
In a recent article, U.S. Labor Department job analyst Jonathan Baker stated, "With so much care being given in hospitals, the need for med/surg nurses will only increase." It's estimated that 20 percent of all nurses will work as a med/surg nurse at some point during their nursing career. The average pay for a med/surg nurse is $75,000 a year.
What is a Med/Surg Nurse?
A "Med/Surg nurse" is short for "Medical-surgical nurse"!
As a med/surg nurse, you'll join one of the largest groups of practicing professionals in the profession of nursing.
It's also one of the most demanding and rewarding nursing careers because you'll be directly connected to your patients as they go through their treatment and start on their road to recovery.
What Does a Med/Surg Nurse Do?
Med/surg nurses get down to the basics of nursing almost every day. They are considered the backbone of the hospital. Your experience now as an LVN can help your build on the skills you would need in the future as a med/surg nurse.
Some duties that med/surg nurses may perform include:
Patient assessments
Hands-on care
Coordinating medications and wound care
Making referrals
Advising patients and their families
Where Do Med/Surg Nurses Work?
You may think med/surg nurses only work at hospitals, but they can also be found working in:
Surgical centers
Ambulatory care units
Urgent care centers
Home healthcare facilities
Clinics
Skilled nursing homes
Long-term care facilities
Universities
---
You Might Like...
Vocational Nursing Portfolio Checklist
Top 6 Careers with a Nursing Degree
Why Good Communication is Important in Nursing
5 Pioneering Men in Nursing History