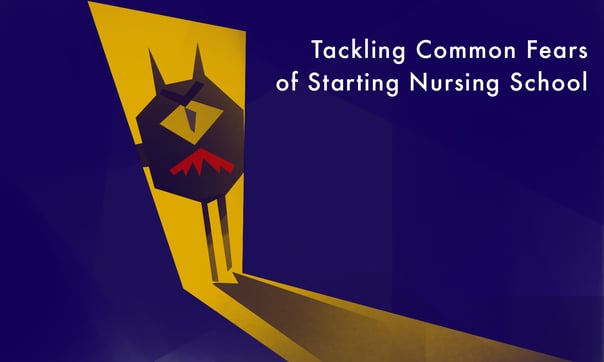 It's only natural to have some concerns, especially if you're over 30 and are thinking of going back to school to become a nurse.
Going back to school will be a major change in your life. And let's face it, change can be scary sometimes, even more so when you've become used to things in your life being a certain way. However, training to be a nurse is a good change. Have you struggled with dead end jobs that don't bring you personal satisfaction, or had to struggle to make ends meet? Becoming a nurse can be just the change you need.
---
Let's take a look at some of the common fears most people have about starting nursing school and determine if they're valid reasons for you not to go.
1. "I'm Too Old"
Not everyone has their life fully planned out at a young age. You may have thought you wanted to pursue a certain career, but after a few years decided it wasn't what you really wanted. Remember, age is just a number, and it should not be a barrier from keeping you from returning to school. In fact, your maturity and life experiences can make you a better student. Students over the age of 30 account for 25 percent of students attending vocational schools and college.
2. "I Don't Have Any Medical Experience"
This is probably the main reason why you would attend nursing school: to get experience. Some people are afraid that they will cave under pressure and forget what they have learned. If you have this fear, a good way to overcome it is to try shadowing a nurse and/or volunteering at a nursing home or blood drive to see if nursing is the career for you.
3. "Blood Makes Me Squeamish"
This can be a problem, but with increased exposure, you will most likely become desensitized. It's a good idea to try volunteering in a hospital or healthcare facility. You can gain experience that will help you build your resume and help get used to things about nursing that may make you a little squeamish. However, if you think you cannot overcome your hemophobia (fear of blood) and faint or become ill at the sight of blood, you may want to consider a different career path.
4. "It's Too Hard"
Yes it will be hard, and maybe it will be too hard for you. Becoming a healthcare professional is not for everyone. It can be a physically and emotionally demanding job. If you want to become a nurse, you should be in good physical condition and be able to keep your emotions in check. Remember, nothing worth having comes easy, and if you are up to the challenge then nothing should keep you from becoming a nurse.
5. "It Will Take Too Long"
One of the quickest ways to become a nurse is by applying to a trade/vocational school to become a licensed practical nurse. This gives you a foot in the door sooner than if you applied to a traditional college. Class sizes are smaller and there are often no waiting lists. And the best thing is that with some schools, you may be able to complete your training in as little as 10 months. If you think you may want to transfer to a college after vocational school, you will want to check out the school's accreditation and credit transfer policy.
If you have always wanted to become a nurse, but life got in the way of your dreams, do not let your fears keep you from starting nursing school. Overcoming your fears will put you on the path to becoming a nurse. The time is now to get past your fears and take the first step toward a rewarding nursing career.
---
You Might Like...
IN THE LAB: How to Insert a Nasogastric Tube
Equal Opportunity: Not All Nurses are Women
The Demand for Med/Surg Nurses is on the Rise
3 Ways to Find Out if Nursing is Right for You
---
Did you know you could download our free LVN and CNA curriculum guides?

**Our next LVN and CNA classes are starting in October!**