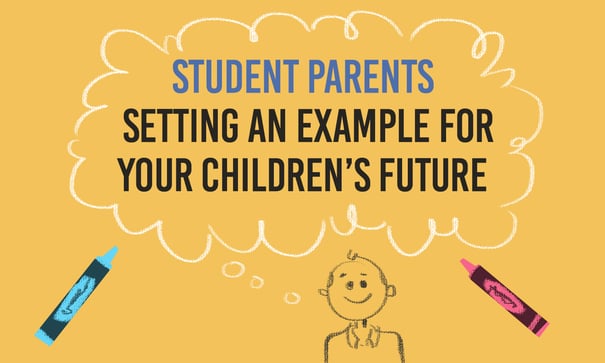 You may be wondering how you can juggle going to school and having kids at home. However, what you may not realize is that going back to school to better your job opportunities to provide for your family will have a lasting positive effect on your children. One of the most important jobs you have as a parent is setting a good example for your children, and continuing your education is a great way to do this.
Dealing with Feeling Guilty
You may feel guilty about taking time away from your family when you are at school or studying. But did you know that this guilt comes from having a strong commitment to your family? Talk to your children and explain how education can help improve all your lives. Once they understand that you are in fact doing this for them, they can better understand why you:
Need quiet time to study
May not always be able to attend some of their school functions
Could use their help around your home
What Your Kids See
Kids are always watching, and they are easily influenced. By watching you work hard going to school and studying, they will begin to understand the importance of working hard at school. They will also understand the importance of having an education as a way to get ahead in life.
A good way to spend time with them, but still have time for your own studying, is by sitting down and doing your homework when they are doing theirs. This helps drive home the reason why they should be doing their homework also when they see you doing yours.
It is not easy going back to school when you have children. But remember, they are your inspiration for succeeding. You are setting an example that they will carry with them for a lifetime, and that will hopefully influence them to choose education for themselves for a better life.