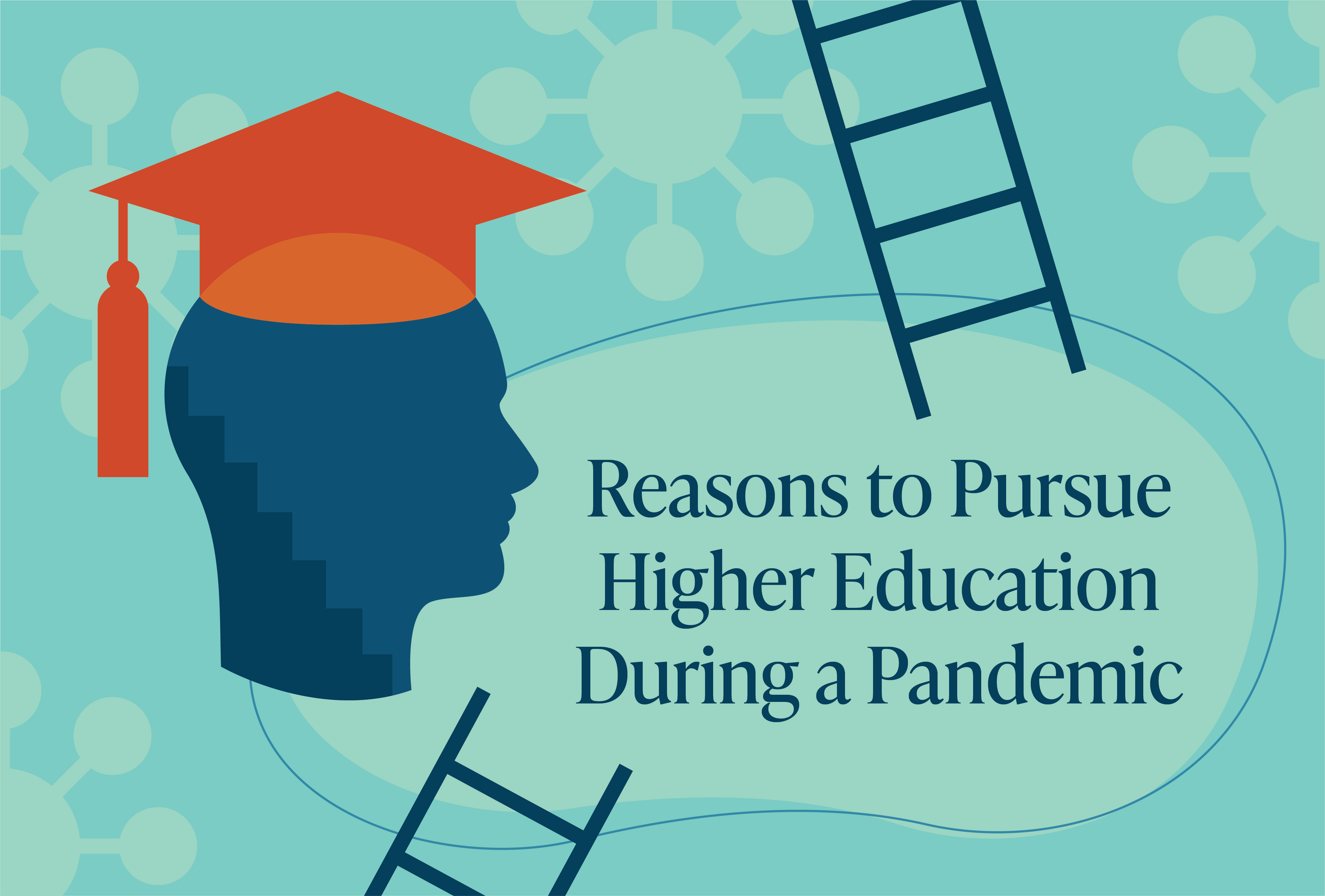 Reasons to pursue higher education during a pandemic.
COVID-19 cases are rising in many states. Every day there are different news and predictions of how long we will be quarantined. Besides the pandemic, the current social and political climate is not helping and it has left many people in our community feeling hopeless. What many folks have not realized is that now is the best time to become better versions of ourselves! One of the best ways is by pursuing higher education.
Pursuing higher education is now easier than ever.
After getting through the challenge of choosing a school, enrolling, and selecting classes, the fact that most classes are online have motivated many people to go back to school as they are now able to study from anywhere. Although if you are looking into out-of-state schools, keep in mind you will very likely have to pay higher tuition, but if you're comparing costs at different schools, it might end up being more economical. Universities in different states have different fees. Now, with asynchronous and synchronous lessons, you can choose at what time you can study and take your courses. Most instructors are recording their lessons so that way you can review them again or later if you were not able to attend a meeting.
Financial help is available!
Paying for your tuition should not be an obstacle to attending school! The Federal Student Aid has funds that may cover your tuition in full. Check for the full application at https://studentaid.gov/h/apply-for-aid/fafsa, you might also qualify for a grant depending on your financial situation! Also, there are many scholarships you can be awarded depending on your achievements, struggles, and/or identity. Once you get admitted, the same college will have many scholarship offers. Make sure to ask your academic counselor for advice on scholarships based on your field of study as well.
Going to school is a step towards a better life.
When you obtain a degree, you have better chances of obtaining a professional job and developing a career. Hence, putting you on a path to having a better quality of life. You will develop skills and knowledge which will make your work very sought after by employers of various industries. Think about what goals you would like to set for yourself and develop a plan!
School is definitely a challenging system: there is plenty of work to take care of besides your life responsibilities, but as we mentioned at the beginning of this blog, if you are able to take online courses and work towards a degree from home, it is easier. These unprecedented times are perfect to get ready for better times, and one of the highest growing occupations is nurse practitioners. At Angeles Institute, we offer one of the best nursing programs in the Los Angeles area; we work hard to ensure our students secure employment within the healthcare industry. Our dedicated staff is committed to improving the lives of our students and their future patients one step at a time. Apply online today, we have many terms starting this year!