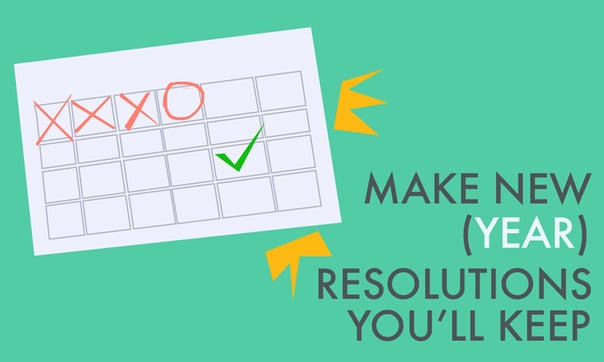 It's that time of year when we all take a moment to think of resolutions for the coming year. You might resolve to lose a couple of pounds, exercise more, or find more time to spend with your family. Some resolutions you might keep, while others might fall by the wayside before January is through, despite your good intentions.
---
Why Is Keeping Resolutions so Challenging?
The problem most of us have with keeping our New Year's resolutions is that we are often too hard on ourselves. It is very difficult to break bad habits and adopt good ones overnight. Instead of trying to make radical changes in the coming year, try making small changes that will eventually become good habits over the coming months.
Resolutions You Can Start On Today
Consider making one or more of these resolutions that will have a positive impact on your health:
Exercising at least 30 minutes a day. You do not have to join a gym or invest in exercise equipment and workout clothes — all you need to do is start moving. Go for a brisk walk on your lunch break or after work! See if you can get a friend or a family member to join you for company, or use this time to relieve stress from your day.
Eating more consciously. Making radical changes in your diet often leads to failure. Instead, make small changes in your diet:

Cut back on sugar
Try meatless Mondays
Drink more water
Strive to eat five or more servings of vegetables and fruits each day

Getting more sleep. We could all use more sleep. You may not be able to sleep in later in the morning, but you may be able to go to bed at least an half an hour to an hour earlier each night.


Quitting smoking. If you have tried in past years to quit smoking, keep trying. Get support from free stop-smoking programs such as California's Smokers' Helpline by calling 1-800-NO-BUTTS.
Other Resolutions to Consider
If you're interested in the more conventional resolutions, what about these other options?
Writing daily notes of gratitude. At the end of your day, take 5 minutes (even 1 minute will do) to write down 1-5 things you are grateful for. If you feel like you have no idea what to write first, you could start with, "I'm grateful for being alive."
Donating to one charity or shelter once a month. Try finding clothing you don't wear anymore or non-expired canned food you can donate to a local shelter. There are so many organizations and causes you can donate to, from the ASPCA (

American Society for the Prevention of Cruelty to Animals)

to the Alzheimer's Association.


Reading one book a month. Read at your own pace, at your time. Take the time to realx and read whatever you want: Romance, sci-fi, comics, memoirs, New York Times best sellers! Visit your local used bookstore for extra savings on books!


Visiting one museum a month. Did you know that many of LA's great museums have free admission? Plan a day to visit a museum with your family, pack lunches to save money on food, and enjoy

Learning a new language. Have you always wanted to learn French? What about ASL (American Sign Language)? Whatever the language, there are free apps (Duolingo) and websites for whatever your heart desires! Try