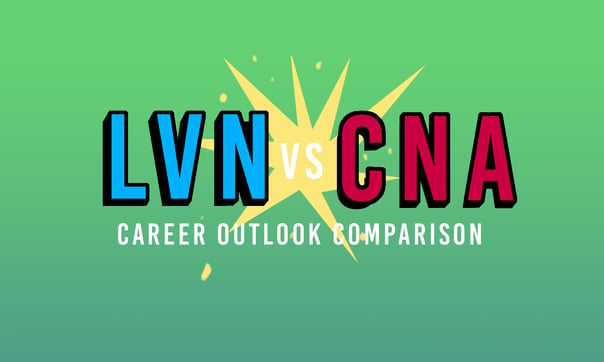 According to the Bureau of Labor Statistics, the expected need for LVNs and CNAs between 2014-2024 is at least twice of the national average of 7% for all jobs in the United States. What this means for you if you are considering entering these positions in the healthcare field is that the two careers are very stable.
---
LVN Salary
In California, the average salary for an LVN is $25.21 an hour. For someone working as a full-time LVN, the average yearly salary would be $52,422 a year.
At the lower end of the salary scale, where new LVNs may start out, the yearly salary comes in around $44,000 a year. At the higher end, there is potential to earn up to $60,000 a year.
CNA Salary
The average salary for a CNA in California is $13.87 an hour. Those working full-time can expect an average yearly income of $28,837.
CNAs who are just starting out may begin at $24,000 a year at the lower end of the pay scale. Top-earning CNAs may earn as much as $35,500 a year.
Why be an LVN?
LVNs can be found working in nursing and residential care facilities, hospitals or physicians' offices. This area of nursing is a good place to start if you want to enter the healthcare field quickly, or if you are unsure if you are ready to pursue becoming an RN.
The good news is if you decide nursing is for you, there are LVN to RN programs that will allow you to continue working while you study to be an RN.
Why be a CNA?
CNAs can be found assisting patients in skilled nursing facilities, hospitals and retirement or assisted living facilities. Starting out as CNA is a good way to decide if working in the healthcare field is right for you. It's the quickest program to be licensed for if you are making a transition into healthcare.
If you decide to continue in healthcare, you can always opt to enter a CNA to LVN program to advance your career options.
---
You Might Like...
Transferring to a Nursing School
IN THE LAB: Proper Ear-drop Instiallation
A Day in the Life: What Vocational Nursing is All About
Going Back to School as a Single Parent
---

Interested in our LVN program?
Check out our newly updated LVN guide for more information!
Interested in our CNA program?
Check out our CNA curriculum guide for more information!