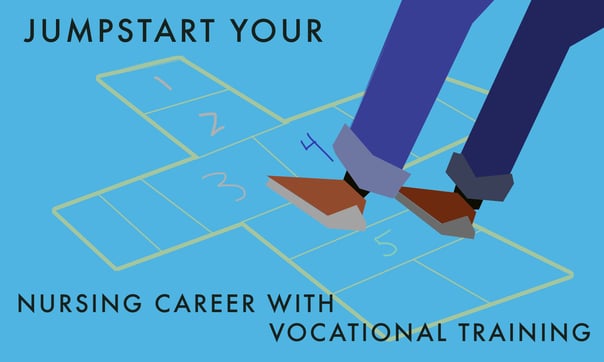 If you want to become a nurse, you have several routes that you could take on your path to achieving that goal. Some options, including choosing to start as an RN will take two to four years of college before you will be able to start work as a nurse. You will be required to earn a degree, graduate and then take your licensing exam. For some, this route may be impractical, especially if your current circumstances—such as supporting your family or gaining financial independence—require you to start your nursing career sooner than later.
---
The Faster Route
Training to become a licensed vocational nurse is one of the quickest ways to enter the health care field as a nurse. Instead of attending college, you can enroll in a vocational school where you could complete your training in as little as 10 months. Going to vocational school gives you the training you will need to prepare you for your NCLEX-PN exam.
Save Yourself Debt
Choosing vocational school over college will save time in getting you into a financially rewarding career. However, it will also save you money in tuition costs by focusing only on the training you immediately need to care for patients. In college, you will be required to take additional courses and electives in order to graduate with a complete Associates or Bachelor's degree.
Advance Your Career
Once you are an LVN, you could always choose to become an RN later on. There are programs that will allow you to study to become an RN while you are working as an LVN. Programs such as these take into account your previous experience and training as an LVN. This often will allow you to become an RN faster than if you originally began your training as an RN.
If you want to start working as a nurse sooner than later, choosing vocational training over college will give you the jumpstart you need to enter the workforce sooner.
---
You Might Like...
Transferring to a Nursing School
IN THE LAB: Proper Ear-drop Instillation
A Day in the Life: What Vocational Nursing is All About
Going Back to School as a Single Parent
---
---

Interested in our LVN program?
Check out our newly updated LVN guide for more information!
Interested in our CNA program?
Check out our CNA curriculum guide for more information!