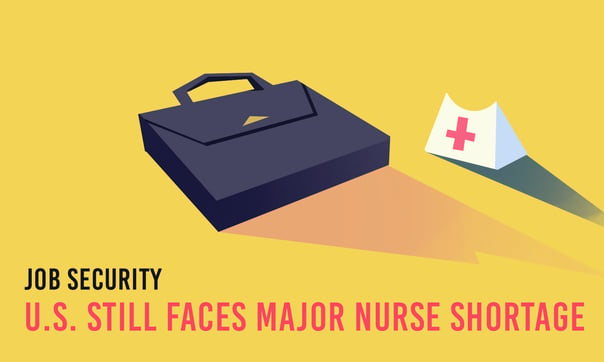 Did you know the United States has more people over the age of 65 now than ever before?
Over the next 20 years, it is projected that the nursing shortage will only get worse as the Baby Boomer generation, the largest concentration of older adults, reaches retirement age.
---
A Great Need
The Bureau of Labor Statistics has estimated that between 2014 and 2022, more than a million vacancies will be waiting to be filled for registered nursing positions.
The expected job growth for both registered licensed vocational nurses is expected to increase by 16 percent, which is much faster than the average rate for jobs in other industries.
What is alarming is that experts are fearing that by 2025, the United States will experience a shortfall of nurses that will be, at minimum, twice as large as any previous shortage.
The Facts
The elderly population is expected to increase by 75 percent between 2010 to 2030. This means that one in five Americans will be a senior citizen.
To make matters worse, at least 80 percent of all senior citizens suffer from a chronic medical condition, with 68 percent suffering from two or more health issues.
What Now?
As the population ages, so does the demand for healthcare workers. California has struggled to keep up with the demand for nurses over the past 20 to 30 years, with only 50 percent of the nurses needed filling open positions.
With a nursing shortage that is expected to only increase, now is a good time to prepare for that need by training to enter the nursing profession.
The bottom line? A career as a nurse means that jobs will almost always be available because the need for qualified medical professionals will always exist.
---
You Might Like...
Stop Waiting to Pursue a Healthcare Career!
Becoming an RN: College vs Trade School
IN THE LAB: Proper Tourniquet Technique
---
Interested in our LVN program?
Download our LVN Curriculum Guide for more info on our requirements, tuition, and more!
Did you know Angeles Institute also offers a CNA program?
Our CNA Curriculum Guide features info on our requirements, tuition, and more!
Are you a transfer student interested in our programs?
We've got just the guide for you!