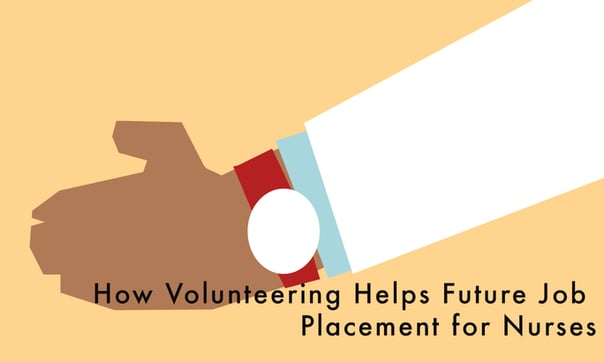 While you may already have a busy schedule, it may be worth your while to find time for volunteer work. Spending time volunteering now could help you with finding a future nursing job placement. You could choose to take a short-term or ongoing volunteer assignment within your community or with an organization.
---
Benefits of Volunteering
Some of the benefits you could take advantage of by volunteering while still a nursing student include:
Expanding your network: As a volunteer, you will meet new people. You may find that the people you work with or who supervise you can become valuable references. They may also direct you to job opportunities.


Learning new skills: The field of nursing is always changing. You can learn new skills while having opportunities to practice the skills you have already learned. Volunteer opportunities could help you gain the additional experience you need to give you an advantage over other job applicants or if you plan to pursue higher levels of nursing education.


Developing leadership skills: As a volunteer, you may have opportunities to lead a team. Volunteering is looked upon favorably by nursing schools and potential employers as showing that you are committed to your profession.


Serving as an ambassador in your community: Volunteering within your community will give you the opportunity to serve as an ambassador for the nursing profession while you educate and help others. You may inspire others to join the nursing profession.
Where to Volunteer?
There are many organizations that are in need of volunteers both locally and internationally, such as the American Red Cross. If you are interested in public health, you may be interested in providing education on various health topics, such as educating the public on HIV prevention. Other volunteer opportunities may include assisting with blood drives or teaching first aid classes.
If you are unsure of what types of volunteer opportunities are available, the National Student Nurses Association can direct you toward opportunities, including volunteering at clinics or working in shelters.