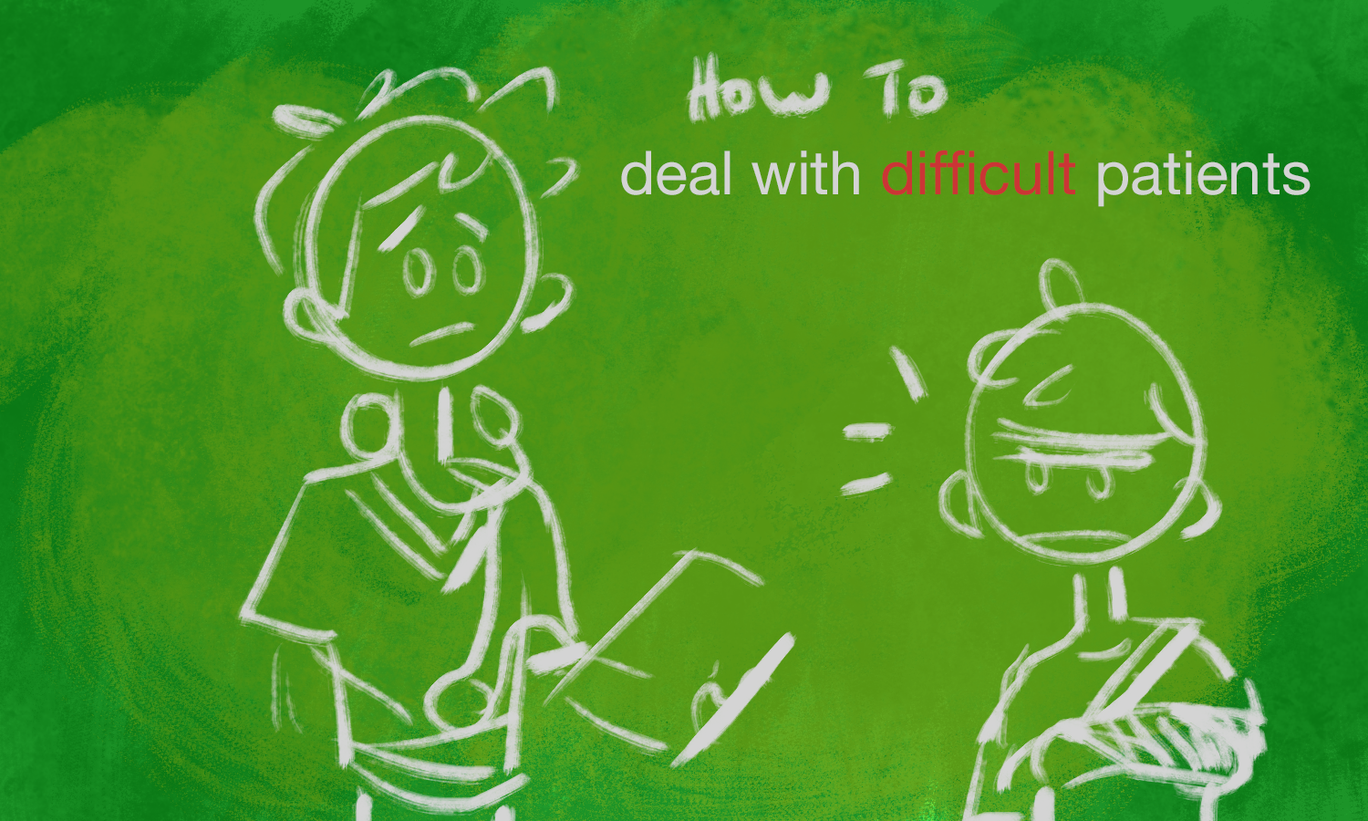 At some point during your career or even while you are in training, you may have to deal with difficult patients. The thing that you need to remember is that patients can easily lose control of their emotions and might take it out on you and others when they are:
In pain
Under stress
Anxious
Upset over losing their independence
You will likely find your patience and compassion tested when this happens.
---
Exercising Patience with Difficult Patients
It helps if you are able to recognize early on if a patient is starting to become upset or angry. Their body language can be a good indicator if they are clenching their fists, frowning or tightening their jaw. The patient might show a significant change in their behavior.
Here are some ways that you can defuse situations with difficult patients before things get out of control:
Remember, it's not about you! Keep calm and don't take it personally that a patient is being difficult. The patient may be in pain and stressed over the situation of being injured or ill. Do your job to the best of your abilities and do not let the patient's negativity get to you. Avoid displaying any negative body language.


Don't argue with the patient. Difficult patients will often have a list of complaints on how they are being treated by you and other caregivers. Do not get into a defensive mode by explaining why the patient did not receive what they asked for or expected at a certain time. Always remain respectful, apologize and tell the patient you will look into the problem(s).


Talk to your patient. Sometimes all that is needed to calm a patient down is to take a little time to speak with them. The reason for your patient's frustration could simply be is that all they want is to be heard. Again, keep calm, refer to the patient by name and speak softly and calmly even if the patient is yelling at you.
Having Compassion for Your Patients
Being compassionate to your patient's plight can also help defuse tense situations with difficult patients.
Try to be understanding. Showing your patient empathy is a good strategy to calming them down. Think about how you would feel if you were in their shoes. Would you be scared and feel like somebody should be doing more?


Look for opportunities to be empathetic. You can make a patient feel like you really care and are trying to understand their feelings by thoughtful gestures. For example, if you are speaking with a patient and you see they are beginning to cry, hand them a tissue. This simple gesture shows that you care.


Be compassionate, but set boundaries. If a patient is screaming at you or using profanity, you need to set a limit. You might respond by calmly telling the patient that this is something that is not allowed and if they wish for you to continue speaking with them, they will need to stop speaking to you in that manner. Offer to step out of the room and allow the patient a moment to calm down.
Unfortunately, having to deal with difficult patients will sometimes be part of your job as a nurse. Remember, not all patients are difficult and more often than not, being a nurse is a personally rewarding profession as you make a difference in the lives' of many patients, difficult or not. It is important to give yourself an outlet to let go of stress from work and practice self-care. This will allow you to stay centered and in a good frame of mind at work and in your personal life.
---
You Might Like...
Tackling Common Fears of Starting Nursing School
Top Podcasts for Nursing Students and Professionals
Watch Out! Student Loan Forgiveness Scams
IN THE LAB: How to Prepare Medication
What is Your Nursing Career Objective?
---
Did you know Angeles Institute offers **FREE** Curriculum Guides?