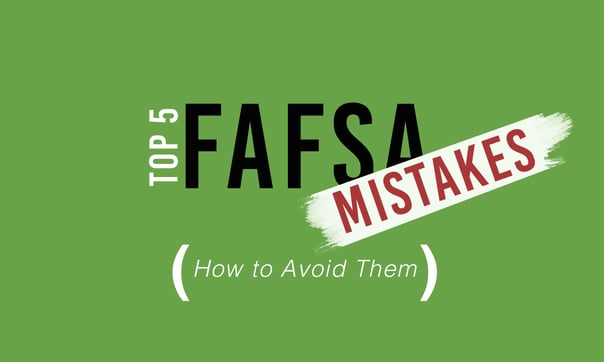 Not everyone has money saved away that he or she can use to pay for nursing school or college. Therefore, if you are going back to school, you want to make sure you file your FAFSA to determine your eligibility for financial assistance, such as grants that you do not have to pay back and low-interest loans. You will want to avoid making these top 5 mistakes that could delay the processing of your application or cause you to miss out on the maximum amount of aid.
---
Mistake #1: Not Filing
You might think you make too much money or that filing a FAFSA is too difficult. But there is no income cut-off for applying for financial aid! And filing your FAFSA is easy, maybe taking about 30 minutes to an hour. Help is also provided throughout the application if needed.
Mistake #2: Waiting Too Long
You want to file as close to the January 1st starting date as possible, even if you haven't filed your taxes yet! This way you can receive the maximum amount of grant money that you may be eligible for because many state grants are awarded on a first-come, first-served basis.
Mistake #3: Missing Info
You will need to provide certain personal information, including your income with your FAFSA application. If you don't have access to your federal income tax forms, you can now take advantage of importing your tax inf
ormation from the IRS into your FAFSA.
Mistake #4: Incorrect Info
Make sure that you have entered all your information correctly before signing and submitting your FAFSA application. You must enter your name exactly how it is shown on official government documents, such as your birth certificate and Social Security card.
Mistake #5: Rushing
Read each question carefully. Do not leave any empty fields, especially if an answer should be "zero"; just answer "0." Often students will make mistakes with answering the number of family members. Read through the FAFSA information to determine how to answer this question.
---
You Might Like...
How to Insert a Foley Catheter
Transferring to a Nursing School
---

Do you have ideas for our next blog post? Comment below and let us know!
Don't forget to subscribe to The Nightingale and check us out on Facebook, YouTube, and Instagram (@Angeles Institute)!