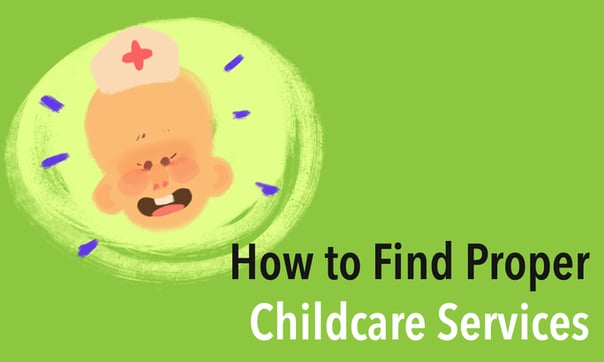 A concern of many parents who want to return to school to better their families' lives is finding childcare. Other family members may not be available or might not be able to provide childcare on a regular basis, so that leaves you with having to interview babysitters or childcare centers. The problem is that it can be difficult to trust someone that you do not really know with your little ones. Here are suggestions that can help make finding childcare a little less difficult!
---
Questions to Ask When Considering a Daycare Center
It helps to make a list of questions to ask before you visit the daycare centers you are considering for your child. Bring this list with you to remind you of things that you might forget to ask during your tour of the facility. Be sure to take notes during your tour that you can refer to later on.
Some questions to ask include:
1. What are the center's qualifications?
On your tour of the facility, ask the director about the center's qualifications. You can also go online and do some pre-screening of daycare centers that you are considering to come up with a potential list of the ones that are reputable with good reviews. Find out how many years the center has been in business and if they have the necessary licenses to run a daycare center. Check out reviews from other parents.
2. What is the Staff-to-Child Ratio?
Your child is not going to be the only one in the classroom. You need to find out how many caregivers/teachers and how many children will be in the room. The rule of thumb for an idea ratio would be:
Two to three year olds – One teacher to five children
Three to four year olds – One teacher to seven children
Five year olds – One teacher to fifteen children
The fewer children per teacher means the likelihood of more one-on-one care for your children. If the center seems overwhelmingly crowded to you, take it as a sign it might be overwhelming for your child also.
3. How safe is the daycare center?
Before visiting a center, it is a good idea to contact the California Department of Social Services' Community Care Licensing Division to receive a copy of daycare center regulations. When visiting the daycare center, you should take note of the cleanliness of the facility and if there are any hazards present. You should ask if there is someone who is trained in first aid always present with each group. If you have a baby, ask if they follow the suggested guideline of always putting babies on their backs to sleep.
4. What is the policy concerning sick children?
You will need to know what the center's policy is regarding sick gets. The center should have a clear plan to decide when a child needs to go home and how they will notify the parents of illness. You may also want to ask if you will be charged for days when your child is sick at home.
Online Resources for Finding Childcare in California
Whether you are searching for a preschool, institutional daycare facility or home daycare, there are resources online to help you find childcare providers.
ChildcareCenter.us specializes in providing listings of home daycare providers if you prefer your child to have more individualized attention when you cannot be with them. You can search by ZIP code or city/state through their online listings.
The California Child Care Resource & Referral Network can provide you with free information on how to choose childcare. They can also provide you with referrals to daycare centers or home daycare providers.


The Child Care Resource Center offers free online childcare searches and referrals to parents for licensed childcare providers throughout Northern Los Angeles and San Bernardino counties. The site's search option allows you to search for childcare programs that assist families in paying for part or for the entire cost of childcare.
Finding childcare can be a difficult job. But by utilizing the resources provided, this task can be a little easier for you!
---