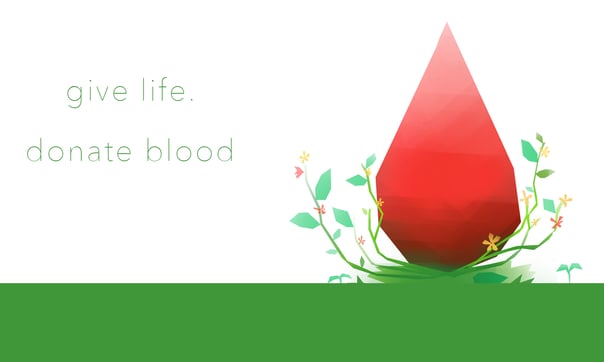 You might not realize it, but by donating blood, you're essentially giving the gift of life to someone in need in your community. Blood donations are constantly needed to ensure that there's an ample fresh supply on hand to provide for those who need blood transfusions because of illness or injury.
Imagine if you or one of family members needed blood in an emergency and it just wasn't available? Taking an hour out of your busy schedule to donate at our upcoming blood drive can protect our community's blood supply and help save the life of someone in our community.
---
Blood transfusions can save the lives of:
Women who suffer complications during childbirth
People who suffer traumatic injuries from being in a car accident
Shooting or stabbing victims
Victims of natural disasters, including earthquakes
Surgery patients
Patients with hemophilia, sickle cell disease or cancer
Blood cannot be created; it needs to be donated. Only 38 percent of people in the United States are eligible to donate blood; however, less than 10 percent actually donate each year. Keeping this in mind, consider these facts from the American Red Cross:
Someone in the United States needs blood every two seconds
Three pints of blood is needed for average red blood transfusion
Nearly 36,000 units of red blood cells are needed each day in the United States
Just one car accident victim may need as much as 100 pints of blood to save his or her live
Of the 1.68 million people expected to be diagnosed with cancer this year, most of them will require transfusions while undergoing chemotherapy
Blood Types That Are Needed Most
It's good to donate if you're healthy and able, regardless of your blood type. However, there's always a need for specific blood and plasma types that are considered universal and can be used when a patient's blood type is unknown, for newborn infants or if a patient's particular blood type is unavailable.
Type O negative blood is always needed because it can be used in patients regardless of their blood type. In the United States, 48 percent of the public have this blood type with the percentage being higher among those who are Hispanic or African-American.
Type AB positive plasma can also be transfused to patients with other blood types, but only 3 percent of the population has this blood type.
One Pint Can Go a Long Way
When you donate a pint of blood, you could be helping more than one patient. A pint of blood can produce two or three of the following transfusable products:
Red Cells
Platelets
Plasma
Cryoprecipitate
Depending upon the type of donation process, a donor can either donate whole blood, which contains all four components, or donate only a specific component through a process known as apheresis. A single apheresis platelet donation provides one transfusion dose, which otherwise would have needed to be extracted from five individual whole blood donations.
Donations Are Constantly Needed
Because of their short shelf life of five days after being collected, platelet donations are constantly needed by blood banks to be ready when needed. Red blood cells also have a short shelf life and need to be used within 42 days of being collected. Plasma and cryoprecipitate can be frozen and stored for up to a year after being donated.
What to Expect While Donating Blood
Before coming to donate blood, it's a good idea to have a light meal and make sure you are well hydrated. Bring your driver's license and donor card or two other forms of identification. Bring a list of the medications you're currently taking because you'll be asked during the mini-physical part of the donation process. Your temperature, pulse, blood pressure and hemoglobin level will be checked before you're cleared to donate blood.
The actual blood donation only takes 8-10 minutes. If you choose apheresis, the process may take up to two hours. After your donation, you should stop and have a snack and drink before you're permitted to leave 10-15 minutes after your donation.
Donating blood is a great way to give back to your community and potentially save a life by only giving up an hour of your time.
---
Donate blood at Angeles Institute's Red Cross mobile blood drive!
17100 Pioneer Blvd. Suite #170
Artesia, CA 90701
Friday, April 21st

10 AM - 4 PM