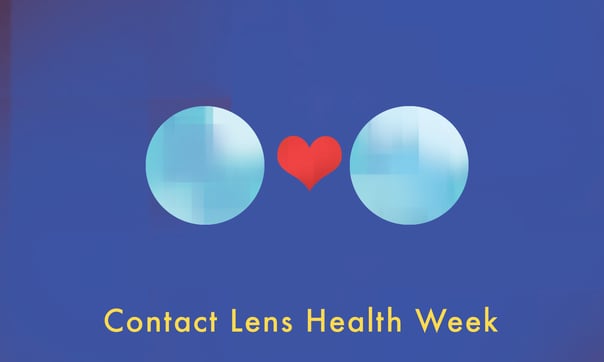 Nursing Program in Los Angeles
Fact: Soft contact lenses are the most common lens material worn.
Fact: "Contact Lens Health Week" was created by the CDC to increase public awareness and promote healthy contact lens wear and care. This is the third annual Contact Lens Health Week!

---
1. Did You Know...
Contact lenses can correct most vision problems?

Near-sightedness (myopia): blurred vision far away
Far-sightedness (hyperopia): blurred vision close up
Astigmatism: blurred vision both far away and close up
Presbyopia: blurred vision close up in aging adults

Soft contact lenses are made of soft, flexible plastics that allow oxygen to pass through to the cornea—the clear dome that covers the colored part of the eye.

Extended wear contact lenses are available for overnight wear ranging from one to six nights or up to 30 days.

Children can safely and successfully wear contact lenses if they care for them properly.
2. Complications & Infections
If patients seek care quickly, most complications can be easily treated by an eye doctor. However, more serious infections can cause pain and even permanent vision loss, depending on the cause and how long the patient waits to seek treatment.
The following are different types of Microbial Keratitis (inflammation of the cornea):
3. Healthy Habits (I)
These are CDC-approved and recommended healthy habits you should follow:
Wash your hands using soap and water.
Dry your hands throroughly with a clean cloth prior to touching your contact lenses each time.
Avoid sleeping in your contact lenses

unless prescribed by your eye doctor.

Keep water away from your contact lenses.

Do not shower in contact lenses, and take them out before going in a hot tub or swimming.
4. Healthy Habits (II)
Rub and rinse your contact lenses with contact lens disinfecting solution—do not use water or saliva—to clean them every time you remove them.
Never store your contact lenses in water.
Replace your contact lenses per your doctor's recommendation.
Rub and rinse your contact lens case with contact lens solution—never water—and empty and dry using a clean tissue. Store upside down with the caps off after each use.
Replace your contact lens case at least once every three months.
Don't "top off" the solution. Only use fresh contact lens disinfecting solution in your case—never mix fresh solution with old or used solution.
Use only the contact lens solution recommended by your eye doctor.
---
You Might Like...
IN THE LAB: How to Administer an Intradermal Injection
IN THE LAB: How to Insert a Nasogastric Tube
More Americans Choosing Nursing as Second Careers
A Day in the Life: LVN vs. CNA
5 Pioneering Men in Nursing History
---
Sources