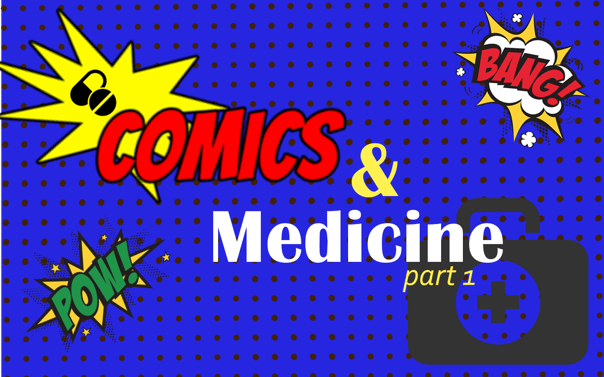 If you thought comic strips and comic books were only for kids, you would be sadly mistaken. Comics can be a valuable tool to the medical profession as they can be used in many ways. People are naturally drawn to cartoon characters because they are often able to connect and empathize with them. Because of this, they can be used when dealing with young or old patients and can even be used to teach students pursuing medical careers.
Friendly and Approachable
Comics can be used to relate the complexity of the illness experience for patients and medical professionals. Graphic Medicine is an online community co-founded by UK physician Ian Williams and nurse MK Czerwiec, RN, MA. Their website has become an active depot for medical comics that provide an inside look at the emotional, sociological, and daily life of being ill. These illustrated narratives have been more effective at explaining what a patient might be experiencing than a medical textbook ever could, but in a friendly and approachable manner.
For young patients, medical processes can be very scary. Comics are a way to explain medical treatments and how medications help them get better.
But it is not just patients' stories that are gaining attention. It can be very beneficial for physicians or medical students to chronicle their journeys, struggles and interactions with patients as they study to become physicians. A good example of how this has been encouraged is the creation of a "Comics and Medicine" course taught at Penn State Medical School.
Michael Green, who teaches the "Comics and Medicine" course explains:
Comics are relevant to medicine in a number of ways. They can help students learn about the doctor-patient relationship, how to communicate bad news, informed consent, empathy and the experience of illness from a patient's perspective.
Teaching Tool
At the University of Toronto, researchers use graphic novels to communicate the complexities of disease, illness and trauma to medical students. It is believed that comics can be used to bridge the gap between society and the medical world. Comics are often brutally honest, while medical textbooks often present a more sterile and emotionless approach. In the future, medical students may find comics like Cancer Vixen or The Adventures of Iggy and the Inhalers on their required reading lists. But it is not just physical illnesses that are being depicted in graphic novels; comics can make it easier for medical students to understand what patients who suffer from mental illnesses experience also.
When studying medicine, the introduction of comics into the learning experience allows students to tap into both sides of the brain. The brain processes words and images differently, and when both processes are joined together, they can provide a more effective learning experience. Reading a comic can provide a release for medical professions or students because they also have entertainment value.
While comics are not widely used yet throughout the medical community, those who do use them as a tool for patients or students recognize their value.