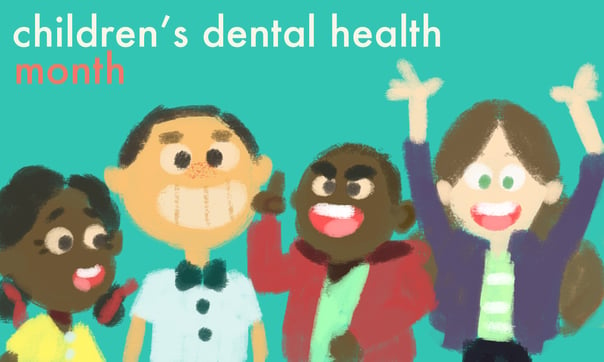 Did you know that February is also National Children's Dental Health Month? This year's theme is "Sugar Wars"! (I'm sure you got the reference.)
Good dental health is important at any age. Poor oral hygiene can also interfere with your child's ability to learn, which can lead to other long-term problems.
---
1. Why is Dental Care So Important?
According to the Academy of General Dentistry, 51 million school hours are missed every year due to dental-related illnesses. A recent study by the Los Angeles School District also showed that children who suffered from tooth pain were more likely to do poorly in school.
It's a common misconception to dismiss cavities or tooth pain in baby teeth because "they'll fall out anyway"! Remember: Good dental health is important at any age.
2. Preventing Tooth Decay, Cavities
Set yourself as a good example for your children! Why would they listen to the dentist if YOU don't practice good oral hygiene? Make sure to follow the basic advice:
Brush your teeth 2-3 times a day, for at least two minutes

Floss 2-3 times a day after meals

Eat less sugary drinks and snacks/food (The calories add up, you know!)

See a dentist twice a year for regular cleanings and exams
3. Dentist Visits
Most dental insurance plans will cover those two visits, along with fluoride applications to keep your children's teeth strong.

For information about where to find low-cost dental care, read this page on the official page of the US Department of Health and Human Services (HHS).
To find actual free/low-cost/sliding scale medical clinics, try this page on Needymeds.org!


---
When was YOUR last dentist visit? Don't forget to take care of your teeth this month!

Let us know if you have suggestions for our NEXT blog posts!
---
Related Content
5 Important Women in Medicine
---
Sources
US Department of Health and Human Services