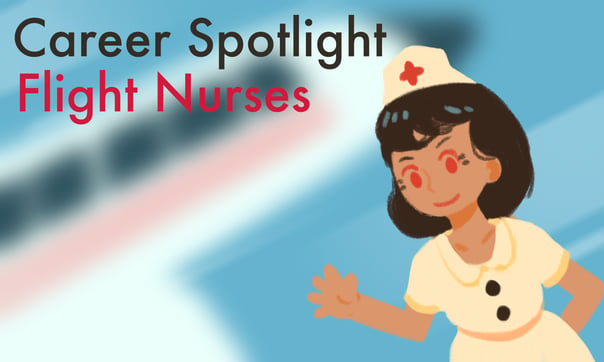 A career in nursing can take you almost anywhere, including the skies!
Nurses who are looking for a challenge may want to set their sights on becoming a flight nurse.
This challenging position is often fast-paced when medevac emergency crews are needed at the scene of trauma and medical emergencies to quickly transport ill or injured patients. Medical flight crews may also transport patients to other medical facilities for treatment that may be unavailable from where the patient is located.
---
Where Do Flight Nurses Work?
A flight nurse may be employed by a trauma center or other types of acute care facilities. They may also find work with private or public medical transport companies. Flight nurses may also serve in the military.
The average pay for a flight nurse is about $62,450 a year.
What Kind of Training Is Needed?
To obtain a job as a flight nurse, you must be an Registered Nurse (RN). You will also need to obtain several certifications including:
Basic Life Support (BLS)
Advanced Cardiac Life Support (ACLS)
Pediatric Advanced Life Support (PALS)
At least three to five years of critical care experience is also required to become a flight nurse.
Demanding, Yet Rewarding
The routine of a flight nurse can be very physically demanding and stressful. As a flight nurse, you need to remain calm in emergency situations and may be required to lift heavy items and be able to stand for long periods of times. You will work with other medical personnel such as paramedics, doctors and other nurses.
A major part of your responsibilities will be making sure your patient's vitals remain stable during the flight and that the patient is kept calm. Additional duties may include:
Assessing patient status
Administering medications
Performing CPR if required
Treating patient wounds
Recordkeeping
If becoming a flight nurse is something you think you may be interested in doing in the future, a good place to start is to earn your LVN. This will set you on the path to gain the critical care experience you'll need to meet your future career goals.
---
You Might Like...
Becoming an RN: College vs Trade School
IN THE LAB: How to Properly Check Pulse Rate
Transferring to a Nursing School
---

Interested in our LVN program?
Learn more about can graduate in 10 MONTHS at Angeles Institute!
Did you know Angeles Institute also offers CNA and HHA programs?

**Our HHA program is only open to current CNA's.**
You've already got credits and need help transferring?
We've got you covered.