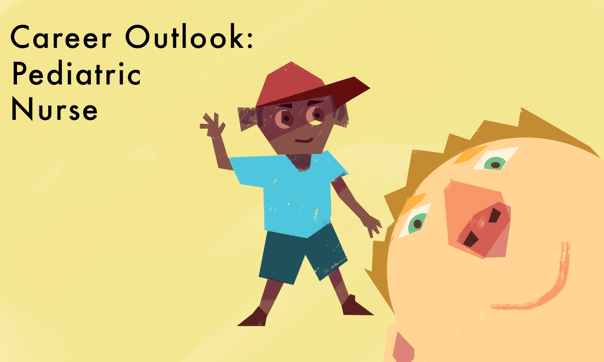 Entering your nursing career as a licensed vocational nurse can be your launching pad into other areas of nursing. As a nurse, you will have many career options available to you available at all levels of nursing. The experience and skills that you gain as an LVN will help you achieve your future career goals. You may find that you enjoy working with a certain age group such as the elderly or children.
If you enjoy working with children, then you may consider setting your career goal to becoming a pediatric nurse. Pediatric nursing can be a challenging and rewarding nursing career.
---
What Does a Pediatric Nurse Do?
Pediatric nurses can be found in various healthcare settings, including schools, hospitals, critical care facilities, and doctor's offices. They provide primary and acute care to children and teens. Some may focus on specialty areas, including oncology, dermatology, cardiology or gastroenterology.
Some of the primary care services a pediatric nurse will assist with or perform include:
Assisting with well care examinations and other types health maintenance care
Performing developmental screenings
Diagnosing and treating childhood illnesses
Providing guidance for common children's health issues
Delivering immunizations
Conducting school physicals
Pediatric nurses who are involved with specialized or acute care may:
Provide care for chronically, critically, or acutely ill children
Conduct comprehensive physical assessments
Interpret diagnostic and laboratory test results
Perform therapeutic treatments
Order medications
A pediatric nurse needs to have knowledge about the growth and development of children. Additionally, skills in communicating with their patients and caregivers will be helpful.
How to Become a Pediatric Nurse
Many LVNs can go to work directly in pediatrics. You will work directly with pediatricians and pediatric RNs to provide care to young children, adolescents, and teenagers. You may also work in home health and private duty situations providing care to medically dependent children in their homes.
If you enjoy the work of a pediatric LVN and wish to take on additional responsibilities, the next step in the process is to become a registered nurse. Having already obtained your LVN, you may be eligible to pursue your RN degree through a program that allows you to use your previous training toward completing your RN studies.
Another option is to work toward becoming a pediatric nurse practitioner (PNP). This advanced position requires a bachelor's degree along with special certifications, but will allow you to diagnose conditions and prescribe medications along with caring for children with chronic illnesses and performing routine examinations such as school physicals and sports examinations.
Career Outlook and Salary
As with other types of nursing careers ranging from LVNs to RNs, the demand for pediatric nurses is expected to grow at a higher rate than many other careers in different industries. Demand grows for nurses who pursue additional training and certifications. Pediatric nurses who have earned their RN degree can expect a median annual salary of $66,640 a year while pediatric nurse practitioners can earn an average of $102,640 a year.
When you choose nursing as your career, you are only limited by how far you are willing to go with your education. You may start as a licensed vocational nurse and decide that you want to work with children on a deeper level as a pediatric nurse does.
One of the great things about beginning your nursing career as an LVN is that you will have the advantage of work experience and previous training on your side if you choose to return to school to advance your career by becoming a pediatric RN or PNP. The skills you obtain as an LVN can always be applied to whatever nursing career you may choose in the future.
---
You Might Like...
3 Ways to Find Out if Nursing is Right For You
More Americans Choosing Nursing as Second Careers
A Day in the Life: LVN vs. CNA
5 Pioneering Men in Nursing History
---
It's never too late to start a new career, so what are you waiting for?
Our next LVN class starts in October!
Did you know Angeles Institute now offers a part-time CNA program?

For more information, call us at (562) 531-4100!