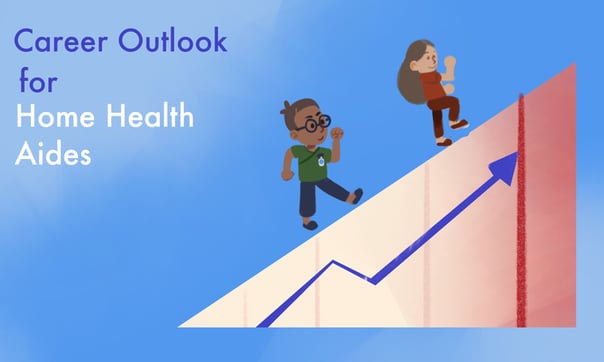 If you are interested in a career where you can help people and closely interact with patients, then choosing to become a home health aide just might be a good career to pursue!
---
Projected Job Growth
According to U.S. Bureau of Labor Statistics, the number of jobs available for home health aides is expected to increase by 38 percent over the next 20 years. In 2014, there were approximately 913,500 jobs held by health aides, and by 2024, about 348,400 new jobs are expected.
As the people live longer, the older population will continue to grow at a higher rate. Considering that baby boomers are now becoming of age where they may require assistance from a home health aide, the demand is expected to continue to grow.
Expected Duties
Many elderly who require care prefer to remain in their own homes as long as possible, instead of having to move to a nursing home or remain in the hospital. A home health aide can provide the care needed by the elderly or those who suffer from disabilities or illnesses, such as cancer, diabetes or other chronic illnesses.
Expected Salary
In 2015, the average pay across the United States for a home health aide was $21,920 a year or $10.54 per hour. Home health aides working in California earned a slightly higher average salary of $23,319 a year, with the highest-paid aides making almost $30,000 a year.
Most health aides work full time and may be expected to work evenings and/or weekends providing care to their clients. Depending upon the employer, some home health aides may receive benefits, including vacation time, sick days, or medical/dental insurance.
---
You Might Like...
A Day in the Life: Home Health Aides
Stop waiting to Pursue a Healthcare Career!
IN THE LAB: Proper Tourniquet Technique
---
Did you know Angeles Institute offers LVN, CNA, and HHA programs?
Download our Curriculum Guides for more info on requirements, tuition, and more!