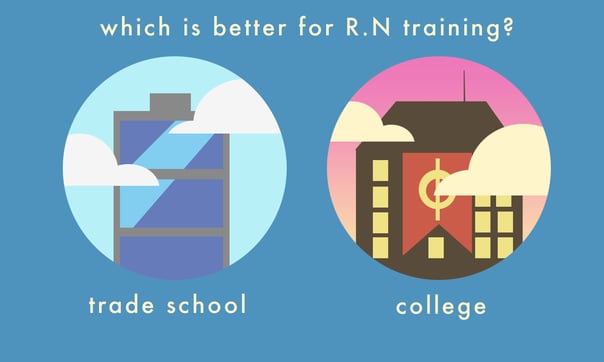 The decision to enter the field of nursing is an excellent choice for a career that can offer you financial stability. This is because the need for skilled nurses will only continue to grow as people live longer. However, you may be considering whether the traditional path of becoming an RN is right for you. It's important to know that you do have options aside from attending college to become an RN.
---
Traditional RN Programs
Choosing to pursue an RN degree in a traditional college setting can be costly.
There are many hidden fees in addition to tuition,
including lab fees
required lab-specific materials
expensive textbooks that often don't see much use.
Other obstacles include:
Nursing students are required to earn an Associates degree, which means they need to take required courses, many with prerequisites that may not pertain to becoming a nurse.
There's also the risk of being wait-listed for classes because the competition is high to get into many college nursing programs.
This can prolong the time for getting your nursing degree, increase your debt and make you more prone to burning out before you ever complete your degree.
Trade School Alternative
There's another way to obtain your nursing degree that many students just like yourself have chosen to reach their goal of becoming an RN.
Instead of applying to college to enter an RN degree program, a less expensive and often, faster way to start your nursing career is by going to a trade/vocational school like Angeles Institute to become an LVN first.
With LVN training,
You're able to enter the workforce faster and accumulate less student debt.
Your education will focus on the courses that are designed for nursing students, without having to prolong your studies taking courses that you don't really need.
One of the great advantages of becoming an LVN is you'll be able to take advantage of an LVN to RN transition program,
which usually takes less time and money than going to college.
If you're already a CNA, you can start with our CNA to LVN path and be on your way.
---
You Might Like...
Transferring to a Nursing School
IN THE LAB: Proper Ear-drop Instiallation
A Day in the Life: What Vocational Nursing is All About
Going Back to School as a Single Parent
---

Interested in our LVN program?
Check out our newly updated LVN guide for more information!