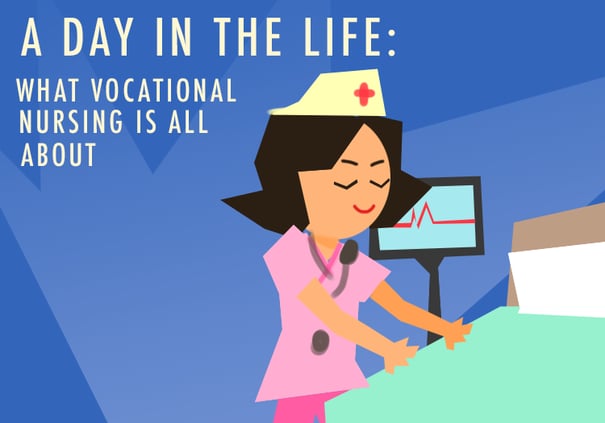 As a potential or current vocational nursing student, you may be wondering what a typical day is like for those in a vocational nursing career. This is important to know, because it will give you an idea of what you can expect once you graduate and pass your nursing exam.
A typical day for a vocational nurse working in a hospital or other type of healthcare facility may go as follows:
Beginning of Your Shift
It is likely that at the start of your shift you will be discussing patient information with the nurse you are replacing from the previous shift. This includes exchanging information about patients, including any special care that may be needed and what medications have been given. You will need to review charts for doctors' orders and receive updates on your patients' current conditions. There should also be treatment sheets to review to see important information such as lab tests that may be scheduled for each individual patient. All this information will help you know what to expect on your shift.
Hitting the Floor
Once you have been prepared with information on your patients, it is time to get moving because it is going to be a busy day. You will most likely be on the move for most of your shift taking care of your patients.
Your duties could include such tasks as:
Monitoring vital signs and catheters
Collecting specimens for lab tests
Changing dressings on wounds or surgery incisions
Assisting with daily needs, including bathing, changing clothes and feeding
Changing bedding
Helping the patient be mobile
Providing medications to patients
Charting patient information and progress
End of Shift
This is probably the first chance you have had to sit since the start of your shift, but your day is not over just yet. You need to make sure that you have finished writing up all your reports. Now it is your turn to prepare the next shift of nurses that is coming on duty. Then you are off to wind down and get ready to do it all again tomorrow.
---
Interested in becoming an LVN in 10 months? Find out more info with our LVN guide below!