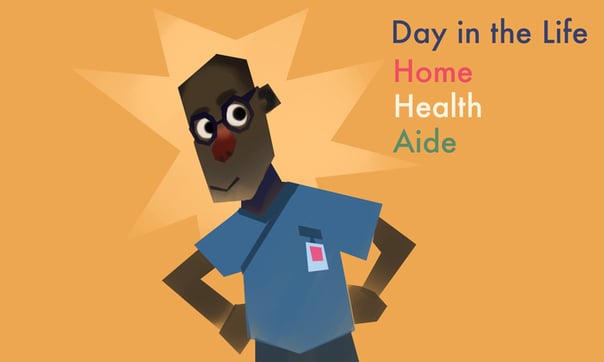 Are you thinking about becoming a home health aide, but unsure if it's the best career for you?
If you are, we've listed the types of duties you can expect to perform in your daily routine when you choose to enter this rewarding career!
---
Typical Duties
As a home health aide, you'll assist the elderly or others who suffer from chronic illnesses, disabilities or impaired cognitive function with daily activities. You may assist your clients with daily personal tasks related to hygiene activities or getting dressed and health-related tasks, including giving prescribed medications and monitoring their vital signs.
A home health aide may also perform duties including:
Light housekeeping, including washing dishes and laundry
Arranging transportation to doctor visits
Organizing a client's schedule and setting appointments for doctor visits
Grocery shopping and preparing meals for a client
Providing companionship and helping a client remain active within his or her social network
Work Environments
According to the U.S. Board of Labor Statistics, 38 percent of employed home health aides work in their client's homes, while others may work in small work homes or larger care facilities. They may also provide care to patients who are in hospice care or day services programs
Some home health aides may work in shifts to provide care to clients who must always have an aide with them. Often, aides will work for the same client for years. Some may visit several clients a day and others may only assist one client throughout the day.
The Physical and Emotional
Being a home health aide can sometimes be both physically and emotionally demanding. You may be required to assist your clients with getting out of bed, standing or walking (See "Typical Duties" above). These activities could make you especially prone to back pain if you are not careful.
Remember: It is important to take care of yourself, physically and emotionally, to better care for others.
Also, choosing to become a home health aide is a good way to start your career in the healthcare industry in a position where the job outlook will only continue to grow.
---
You Might Like...
Stop Waiting to Pursue a Healthcare Career!
IN THE LAB: How to Insert a Foley Catheter
A Day in the Life: LVN vs. CNA
3 Must-Read Tips for New Nursing Students
---
Angeles Institute is dedicated to providing YOU the best
Check out our HHA, LVN, and CNA Curriculum Guides for more info on each program!