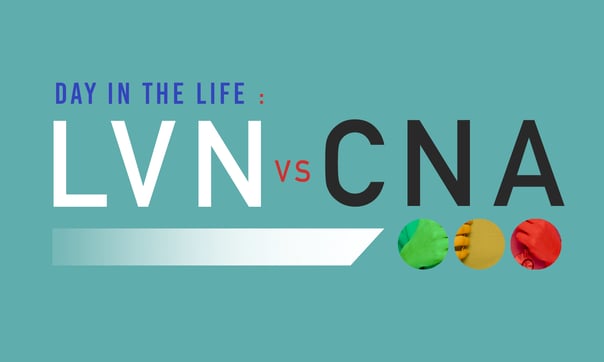 Are you having trouble deciding whether you want to become an LVN or a CNA? Knowing what kind of job responsibilities to expect and what types of places you may work can help make your decision easier.
---
An LVN's Day
LVNs may be found working in hospitals, nursing homes or assisted living facilities. Their days are often fast-paced and demanding, but very rewarding as they provide care for their patients. Most LVN positions run in eight or 12-hour shifts and no two days are often alike.
Upon starting a shift, the LVN will meet with the nurse from the previous shift and go through charts to be updated on the condition of their patients. The LVN will then make rounds to check in with their patients for the day and with her supervisor. Assisting with everyday needs from bathing to changing patients' clothing to helping with feeding is all in a day's work for an LVN. There are medical tasks that LVNs perform, including monitoring vitals, dressing wounds, collecting lab samples and giving medications.
By the end of the shift, the LVN needs to make sure they've updated their patients' charts. Then, similar to how their day began, they will advise the incoming shift of their patients' conditions.
A CNA's Day
CNAs may also work in many of the same places that LVNs do. Many work with elderly patients in nursing facilities or provide in-home assistance. Their days can be fast-paced and demanding as they attend to the personal needs of their patients, with some requiring full assistance.
The CNA may need to bathe, dress, groom and feed some of their patients while assisting others that only require partial assistance. Similar to the duties of an orderly, CNAs may escort their patients to testing or examination rooms. They may also be responsible for keeping patients' rooms clean and tidy.
Becoming a CNA is a good way to discover if healthcare is a field that you want to work in. However, if you are ready to carry more responsibility, becoming an LVN is a great place to start.
---
You Might Like....
Transferring to a Nursing School
IN THE LAB: Proper Ear-drop Instiallation
A Day in the Life: What Vocational Nursing is All About
Going Back to School as a Single Parent
---

Interested in our LVN program?
Check out our newly updated LVN guide for more information!

Interested in our CNA program?
Check out our CNA curriculum guide for more information!