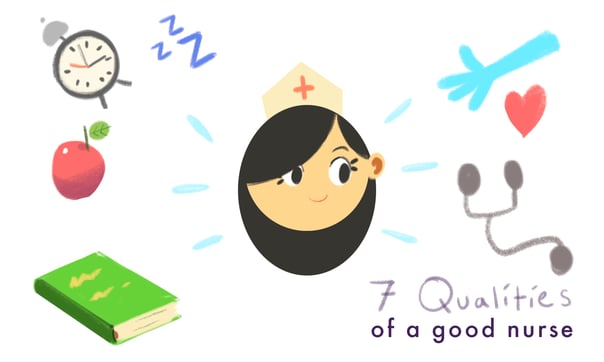 If you want to be successful in your nursing career, it helps to know what qualities make a good nurse. It's not all about knowledge; you should also possess some specific personality traits that'll help you be at the top of your game.
---
#1: A Team Player
It's important to be able to work within a team. This means having the ability to listen to others, to be sympathetic to the feelings of others, and to communicate well. At times, you may not always agree with your team, but try to work it out.
#2: Able to Disconnect
When your shift is over, leave work at work. Your time is your own to spend, whether it's taking care of your family or having time to do the things you want to do.
#3: Take Care of Yourself
If you don't take care of yourself, then you cannot take care of others very well. Providing your patients with constant care and attention can sometimes put a lot of pressure on you. It is okay to take a few minutes to compose yourself, even if it is a quick walk outside.
#4: Physically Healthy
Get plenty of rest and eat a healthy diet. Being a nurse is physically demanding as you'll spend a lot of time on your feet. You may also have to do lifting on occasion.
#5: Able to De-Stress
Nursing can be very stressful at times. When you feel stressed, find something that will help you relax. This could be spending time with friends, reading a book or just relaxing in a hot bath.
#6: Respectful
It is important to remember to treat people as you would like to be treated. There may be times where a patient is rude to you, but keep in mind it may be that they are scared or in pain.
#7: Not Motivated by Money
Often the salary is very good for nurses. However, this shouldn't be your only motivation to become a nurse. You should also want to help others.
---
You Might Like...
A Day in the Life: What Vocational Nursing is All About
IN THE LAB: Proper Ear-drop Instillation
Going Back to School as a Single Parent
---

Interested in our LVN program?
Check out our newly updated LVN guide for more information!
Interested in our CNA program?
Check out our CNA curriculum guide for more information!