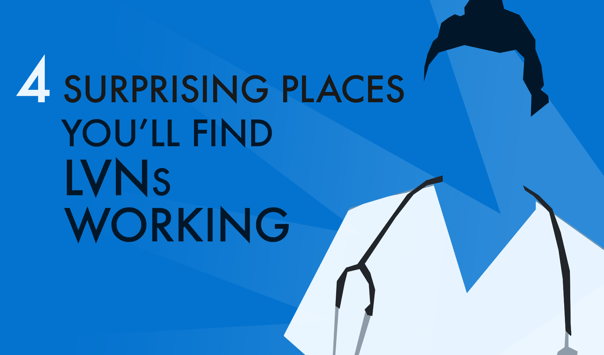 As a licensed vocational nurse (LVN), you are not limited to only working in a hospital setting under the direction of registered nurses. According to 2012 U.S. Department of Labor Bureau of Labor Statistics, only 20 percent of LVNs worked for private, local or state hospitals during that year. The largest concentration of these nurses who were employed during that time worked for skilled nursing facilities.
---
You may be surprised to hear that there are other places where vocational nurses are needed outside the typical hospital or institutional-type setting. Check out these four surprising places you may not have considered working as a vocational nurse.
1. Head to School or Camp
Taking a job as a school nurse can be an ideal situation for a working parent. You have set hours that you would work while your children are in school. In most cases, you have the summers off when your children are off from school also. During the summer, it could work to your advantage and your children's to work as a summer camp nurse.
2. Be a Traveling Nurse
If you yearn for a change of scenery, becoming a traveling licensed vocational nurse may be just what you are looking for. Many assignments are short-term and you may receive benefits that include housing and travel expenses. Often, these jobs pay a higher salary because you may be sent to underserved or remote areas during emergencies or nursing shortages.
3. Become an Occupational Health Nurse
If you like working with little supervision, being an occupational health nurse for a business or factory may be for you. This type of vocational nurse administers medical help when needed and helps promote safety practices to fellow employees.
4. Serve Your Country
While enlisting in the Reserves to serve as a military nurse requires you to have a college degree, you can receive additional training as a medic. You could also choose to apply as a civilian employee for the VA or a military hospital. The benefit to working for the military is that you may be eligible for tuition reimbursement.
---
Interested in becoming an LVN in just 10 months? Check out our latest LVN guide below!
---