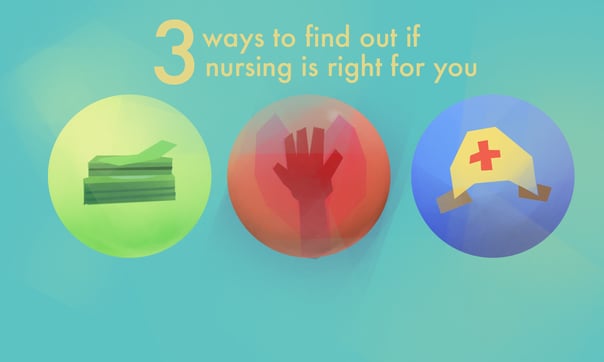 Nursing can provide you with a stable career that will help ensure financial stability and independence for you and your family. However, if you are having doubts about becoming a nurse how do you decide whether nursing is the right career for you? Here are three ways that can help you make your decision.
---
1. Volunteering
A good way to find out if nursing is for you is by volunteering for organizations where nursing skills are needed. Organizations like the Red Cross or your local hospital are always in need of volunteers. Being a volunteer allows you to see and assist healthcare professionals in actions. An added plus is that you will be able to add your volunteer experience to your nursing school application and your résumé for future jobs.
2. Job Shadowing
Contact your local hospital to see if they offer a job shadowing program. Being able to experience the daily routine of a nurse will give you the best idea of whether nursing is right for you. Through job shadowing you will:
Learn the day-to-day duties of a nurse
Grow your network that can help you find a job
Get answers to your questions about being a nurse
Be exposed to different nursing work environments
3. Interviewing
Talking to long-term nurses is probably one of the best ways to find out if nursing is right you. Prepare a list of questions that you may have, such as:
What made you decide to go into nursing?
What do you love about your job?
What do you hate about your job?
What impact has your job had on your family?
What is a typical day like for you at work?
By completing one or more of the three ways above, you will have a clearer picture of what nursing is about, and be able to decide whether it's the career for you.
---
You Might Like...
Becoming an RN: College vs Trade School
5 Pioneering Men in Nursing History
Why Good Communication is Important in Nursing
IN THE LAB: How to Take Blood Pressure
Equal Opportunity: Not All Nurses Are Women
---
Did you know you could download our free LVN and CNA curriculum guides?
We also offer a Transfer Student Guide, so don't feel left out.