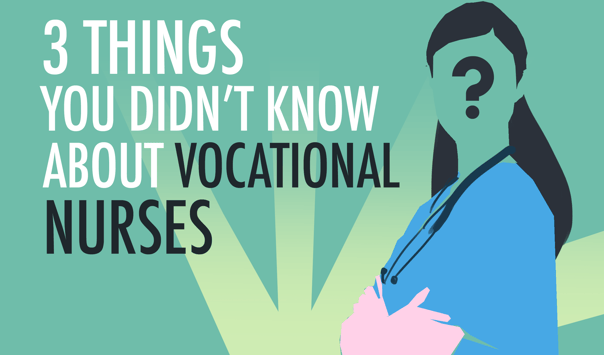 The demand for vocational nurses continues to grow at a quicker rate than many other jobs in the United States. If you are looking for a stable career with a good salary, then becoming an LVN may be something to think about. Consider the following three things you may not know about vocational nurses:
---
1. You Do Not Need to Go to College
Instead of having to go to college, you can earn a vocational nursing certificate in as little as ten months from an accredited school. You do not have to earn an associate's or bachelor's degree to become an LVN. Upon completion of your studies, you will need to apply for a state license and take the National Council Licensure Examination (NCLEX). This exam covers four categories of needs that you will need to prove competence in, including:
Physiology integrity
Health promotion and maintenance
Psychosocial integrity
Safe, effective care environment
After successfully completing the NCLEX and receiving your license, you are ready to work as a licensed vocational nurse and enter the workforce sooner than if you went to college. In the future, if you decide that you want to advance in your career, there are many options and training programs that will help you continue your education and become a registered nurse.
2. Good Salary
The average vocational nurse salary across the United States is around $42,000 a year according to the U.S. Department of Labor. The good news is that in a recent U.S. News & World Report study, California is one of the best paying states for LVNs that are working outside of hospitals and nursing care facilities. The average vocational nurse salary for these nurses is closer to $60,000 a year depending upon the city where they work.
3. Many Job Options for LVNs
As an LVN, you are not limited to only working in a hospital or nursing home setting. Some choose to work in:
Schools
Doctor's offices
Businesses or factories
Home health care
---

Did you know LVN's are in great demand due to a nursing shortage? Learn how YOU can become an LVN in just 10 months!
Check out our latest LVN guide below!
---