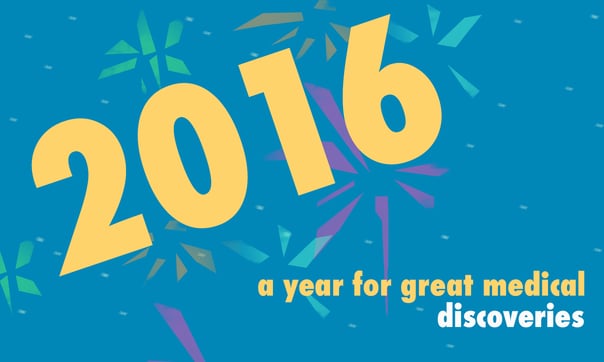 As the New Year begins, we would like to review some of the latest medical advances that made healthcare news in 2016!
---
Alternate Uses Found for Existing Tools
Virtual reality viewers became a popular accessory for turning smartphones into virtual reality goggles. One of the less expensive viewers is the $20 Google Cardboard. This particular device was used by doctors at Nicklaus Children's Hospital in Miami to view MRI scans with the Sketchfab app before performing lifesaving heart surgery on a baby born with half a heart and one lung.
An existing medical treatment that has been used for cancer patients was shown to help multiple sclerosis patients. Hematopoietic stem cell transplant (HSCT) reboots the immune system in cancer patients by destroying their faulty immune system and then rebuilding it with a stem cell transplant. MS causes the immune system to attack the lining of nerves and the spinal cord. MS patients receiving HSCT treatment reversed some of the effects of their disease, allowing some that were paralyzed from the disease to walk again.
Preventing Serious Health Problems
It is now possible to detect whether a person will suffer sudden cardiac arrest (SCA), which is normally fatal for 90% of patients who suffer from this condition. Warning signs can be detected up to a month before SCA occurs. Knowing the warning signs gives affected patients the opportunity to seek medical attention when they occur. Symptoms include:
Shortness of breath
Chest pain
Heart palpitations
Fainting
Vomiting, nausea, back pain or flu-like symptoms
Cataracts have long been accepted as a normal part of aging that could not be prevented and require surgical removal to restore eyesight. Researchers at Louisiana State University have developed drops made of nanoparticles that deliver lutein into the eye lens. The added lutein prevents cataracts and treats cataracts after they have begun.
Exciting healthcare news brought word that it's now possible to detect cancer up to ten years before its symptoms begin to show through a blood test. The test detects the presence of blood cell mutations and is currently being used to detect cancer in the esophagus.