Intravenous Therapy & Blood Withdrawal Course:
This course will provide instruction and training in the techniques required for skin punctures, blood withdrawal, & intravenous therapy. This program has been approved by the Board of Vocational Nursing & Psychiatric Technicians for 36 CE Contact Hours. Simulated and actual skin punctures, venipunctures, and intravenous starts will be performed.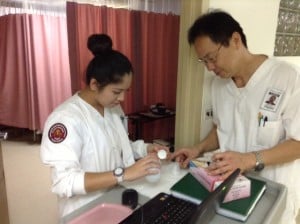 Theory/Clinical content includes, but is not limited to:
Legal Aspects • Anatomy & Physiology • Fluid & Electrolyte Balance • Types of Delivery Systems • Types of Fluids • Psychological Preparation of the Client • Universal Precautions & Safety • Procedures & Equipment • Indications for Intravenous Therapy • Methods of Blood Withdrawal • Site Selection, Preparation, & Management • Management of the Client – Pre & Post Procedure • Potential Complications
Course participants must successfully perform a minimum of (3) skin punctures, (3) venipunctures, and (3) IV starts. Class participants are the subjects for the skin punctures, venipunctures, and IV starts. All hours, tests, and skills must be completed prior to a certificate being issued. A participant must be a Licensed Vocational Nurse (LVN) in order to receive a certificate. Pre-licensure Vocational Nurse participants will receive a certificate once licensure is obtained and documented.

Class size is limited. Consult with Angeles Institute at 562-531-4100 for availability and schedule.